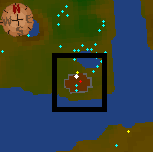 The Amulet of GhostSpeak is gained by talking to Father Urhney during The Restless Ghost quest. He can be found in the southeast Lumbridge Swamp living in a house next to the mine. Its purpose is to allow the player to talk to the ghost during the quest.
You may obtain more than one amulet at a time by dropping it, talking to Urhney, and then picking up the one you dropped.
After the quest is complete, the amulet becomes useless and only functions as a cosmetic item. Father Urhney will not replace it at this point either.
Bonuses
Community content is available under
CC-BY-SA
unless otherwise noted.