The Brimhaven mine consists of several gold rocks, both northwest and southwest of Brimhaven. It is one of the best locations for self-sufficient Mining and Smithing training. There are several poisonous monsters in the area, so cure poisons or poison antidotes are suggested.
Northwest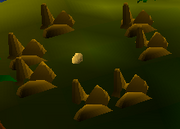 The northwest mine (aka. Horsheshoe mine) contains 7 gold rocks and 1 gold spawn. It is next to the spot used in The Holy Grail quest to travel with the magic whistle to the Fisher King Realm. There is a Moss Giant island to the west that requires level 10 Agility and gives 7 experience when swung onto. On the island there, is a small hut with a bed and a respawn of slice of cake on the table.
Mining rocks
| Image | Rock | Quantity |
| --- | --- | --- |
| | Gold | 7 |
Aggressive monsters
South

In the south, the rocks are in two distinct groups of 5 and 3. There are more tribesmen in the west with four fires and a tribal brew.
Mining rocks
| Image | Rock | Quantity |
| --- | --- | --- |
| | Gold | 8 |
Aggressive monsters
Community content is available under
CC-BY-SA
unless otherwise noted.