Camelot teleport is a Magic spell used on the player themselves to teleport to the Camelot Castle courtyard. It is available with level 45 Magic, and costs 1 law & 5 air runes to use. Each successful cast yields 110 experience.
Teleportation spells can be failed, which will require the player to wait 20 seconds before trying again. However, no runes are lost during failure and no Magic experience is gained.
Like all teleport spells, Camelot teleport cannot be used beyond level 19 Wilderness.
Training
Using Camelot teleport is a popular method of training Magic. It provides the most experience per law rune while still being the cheapest spell to use them. If the player uses a variant of the staff of air, the only cost in using the spell is that of the law rune. Continuously casting the spell can yield up to 160k experience per hour.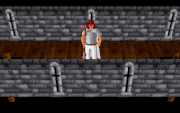 Community content is available under
CC-BY-SA
unless otherwise noted.