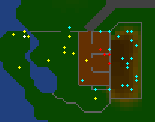 The Crafting Guild is a located south-west of Falador near Rimmington and the Hobgoblin Peninsula. In order to enter the player must have a brown apron currently equipped, and level 40 Crafting. It is one of two places where pottery wheels and ovens may be found, the other being the Barbarian Village.
Features
Ground floor
First floor
Cow area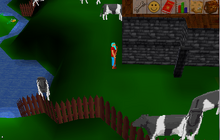 Outside there is a cow pen and some sheep useful for getting hides and wool. Accessing them requires neither an apron or any particular crafting level.
Trivia
Several moulds can be found as item spawns within the Crafting guild, every one available except for the Ring mould and Unholy Symbol mould

You need to wear a Brown apron to both enter and exit the guild. If you lose the apron you can use the emergency escape ladder on the 1st floor.
Between its release (27 February 2002) and 9 May 2002 the guild was only accessible to members. This was changed on 10 May.