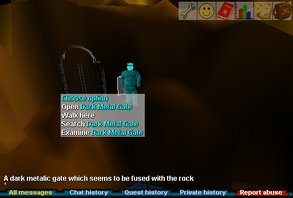 Dark Metal Gate is a Magic obstacle in the Legends caverns. During and after Legend's Quest a charge air, water, earth or fire orb spell must be cast with Unpowered orb to open it. Casting the spell will shatter the orb and teleport the caster to a different part of the cave system. The destination chamber contains Strange Barrels.
The gate is located in a chamber with Half buried remains and seven Carved Rocks, after Ancient Wall.
Messages
Selecting 'Open':
This gate is fused with rock, it doesn't seem possible to open it.
But it does look slightly strange in some way.
Selecting 'Search':
It just looks like a normal gate...
At first...
And then you notice that some of the bars of metal make up letters.
After some time you manage to make sense of it...
Would you like to read it?

Yes, I'll read it.
No, I don't want to read that.

You decide not to read the message.

Search further...

You scour the gate for any more clues...
Something etched into the wall nearby catches your eye...
It looks like a picture of four pillars or constructions.
Over the first pillar is a picture of a cloud...
Over the second pillar are some etched flickering flames...
Over the third pillar is the carved image of a dew drop or a tear...
Over the fourth pillar is the likeness of a ploughed
field...
All of these images are contained within a sphere.
Player: Hmmm, I wonder what they could mean?
Casting charge orb:
The orb shatters with the power of the magic.

The spell works and the gates open.
You magically appear in a different part of the cave system.
It seems that the gate was a test of magical ability.
As soon as you enter this room, you are filled with dread.
In the centre of the room is a large gaping hole.
It goes down a long way...
Legend's Quest
Characters

Legends Guild Guards 🔊

•

Sir Radimus Erkle 🔊

•

Jungle Forester 🔊

•

Gujuo 🔊

•

Ungadulu 🔊

•

Echned Zekin 🔊

Items

Getting around: Rune Axe

•

Machette

•

Pickaxe

•

3

Papyri

•

Charcoal

•

Lockpick

•

Rope

•

Bull Roarer

Oomlie Meat: Raw Oomlie Meat • Palm tree leaf • Raw Oomlie Meat Parcel (cooked • burnt)
Gujuo potion: Snake Weed • Ardrigal • Water filled vial • Snakes Weed Solution / Ardrigal Solution • Gujuo Potion
Golden Bowl: Hammer • 2 Gold bars • Golden Bowl (blessed) • Cut reed plant • Bowl with water (blessed, pure water, pure water + blessed) • Enchanted Vial • Holy Water Vial
Ancient Wall: Soul-Rune • Mind-Rune • Earth-Rune • 2 Law-Runes
Carved Rocks: Sapphire • Emerald • Ruby • Diamond • Opal • Jade • Red Topaz
Dark Metal Gate: 2-3 Unpowered orbs • Charge air orb, water orb, earth orb or fire orb spell runes
Notes: Radimus Scrolls • Bowl Sketch • Fire Pass • Scatched, Scribbled, Scrawled notes • Binding book • Shamans Tome • Holy Force


Misc:

3

Yommi tree seeds

(

germinated

)

•

Crystal lump

+

Crystal chunk

+

Crystal hunk

=

A red crystal

(

glowing

)

•

Dark Dagger

(

glowing

)

•

Totem Pole

(

gilded

)

Monsters
Community content is available under
CC-BY-SA
unless otherwise noted.