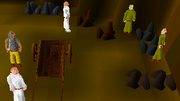 Desert Mining Camp is a slave mining camp located in the Kharidian desert. It is south of Shantay Pass and is accessed during the Tourist Trap quest. To get inside the camp one must get a Metal key by doing a favor to the Mercenary Captain or by killing him.
There is a mineral-rich mine in the area called Desert Mining Camp mine.
Monsters
Items
These items can be obtained from the jail house.