A Firebird Feather is a quest item that is needed to complete the Hero's Quest. It can be obtained as a drop from a Firebird which can be found on the north side on the island of Entrana. It has a hot (red) state and a cool (yellow) state which could have been thought when adding water to it, but presumably isn't obtainable.
Item behavior
Edit
In order for the player to pick up the Firebird's feather, the player must have Ice Gloves (a drop from the Ice Queen) equipped.
Players who are currently engaged in Hero's quest will take damage if they attempt to pick the feather up without wearing Ice Gloves. However, when players are near death it will not actually kill them.
Player's who attempt to pick the feather up when they are not engaged in Hero's quest will not take any damage, and will produce dialogue. See below for an entire transcript.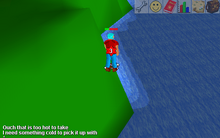 Transcript
Edit
This article on an item has an associated transcript page.
Dropped by:
Edit
Items that can damage player

Food and Drink
Other

Explosive compound • Firebird Feather • Locating Crystal • Mixed chemicals • Nitroglycerin

(

Unid

)

• Orbs of light • Seaslug
Hero's Quest
Characters
Items

Jail keys • Bunch of keys • Dusty Key • Unfinished harralander potion • Blamish snail slime • Blamish oil • Oily Fishing Rod •

1-5

Fishing Bait • Ice Gloves • Firebird Feather • Raw lava eel • Lava eel • ID Paper • Large Black Helmet • Black Plate Mail Body • Black Plate Mail Legs • Miscellaneous key • Candlestick • Master thief armband • Dragon axe

Monsters

Ice warriors • Ice spiders • Ice giants • Ice Queen • Firebird • Jailer • Guard dogs
Community content is available under
CC-BY-SA
unless otherwise noted.