Furnaces play an essential role in the Smithing skill. They are used to smelt metal bars out of ores. Using ore on the furnace creates corresponding metal bars which are then used to create armour and weapons by using the metal bars on an anvil. Furnaces can also be used in the crafting skill to make jewellery by using either a gold or silver bar on them with a mould and an optional cut gem and in the player's inventory.
Locations
See also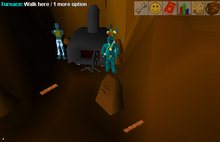 Community content is available under
CC-BY-SA
unless otherwise noted.