A General Store is a shop often found in major cities, as well as smaller settlements, throughout RuneScape Classic. General Stores are often ran by a Shopkeeper and their assistants. They sell basic supplies, and will buy any tradeable item from players for a low price. The lowest price is 25% of the item's Low level alchemy value.
Stock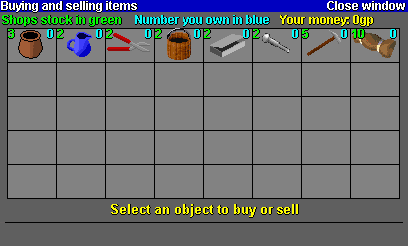 Locations
Trivia
The Al Kharid general store has a special quality wherein silk cannot be sold to it. This is due to the presence of the silk trader in the town.
The Ogre trader General Store, unlike other General Stores, will not allow players to sell items that are not being sold.
See also