Gu'tanoth is city filled with ogres and skavid in south-western Kandarin, Feldip Hills. It is south of Yanille and is accessed during the Watchtower quest.
Ogres
Dungeons
Ogre Enclave
Main article: Ogre Enclave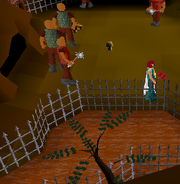 Ogre Enclave is a dungeon beneath Gu'Tanoth that is accessed during the Watchtower quest.
Skavid Caves
Main article: Skavid caves
There are six caves with skavid NPCs. To be able to navigate in the caves, a lit candle and skavid map is required. The southernmost cave (marked on the map right) has a hole that can be used to enter Yanille. The caves also contain bones, nightshades, coins, cheese and Giant bats.
Other Features
Community content is available under
CC-BY-SA
unless otherwise noted.