These two items are used to make a Dragon Square Shield. The left half is an extremely rare drop from many monsters, most notably Shadow Warriors. The right half may only be obtained by buying it from the Legends' Guild Shop for 750,000 coins. Once you have both halves, go to an anvil with level 60 smithing and use any of the two halves on the anvil to create the legendary Dragon Square Shield, granting 75 smithing experience.
Joining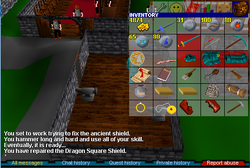 Dropped by
They are dropped by:
and any monsters that drop gems and half keys
Community content is available under
CC-BY-SA
unless otherwise noted.