The Holy water vial is a Ranged weapon that can only be used on Ungadulu to weaken the demon Nezikchened prior to your first fight with him. It CANNOT be used anytime else.
The making of Holy water is learned during the Legends Quest. It cannot be made by players who have not made sufficient progress on the quest to obtain the Book of Binding. Once the book is obtained, the player has to read the Enchanto section of the book, to convert a regular empty vial into an enchanted vial. Then, a Blessed Golden Bowl, previously blessed by Gujuo and filled with pure sparkling clear water from the Kharazi pool, is used to transfer the water onto the vials to make Holy water. One bowl will fill up to 10 enchanted vials.
While they can be equipped, they provide no WeaponAim or WeaponPower, and when they are equipped, they are invisible to other players.
Messages
Trivia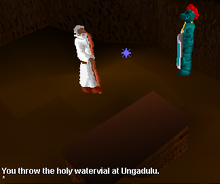 Legend's Quest
Characters

Legends Guild Guards 🔊

•

Sir Radimus Erkle 🔊

•

Jungle Forester 🔊

•

Gujuo 🔊

•

Ungadulu 🔊

•

Echned Zekin 🔊

Items

Getting around: Rune Axe

•

Machette

•

Pickaxe

•

3

Papyri

•

Charcoal

•

Lockpick

•

Rope

•

Bull Roarer

Oomlie Meat: Raw Oomlie Meat • Palm tree leaf • Raw Oomlie Meat Parcel (cooked • burnt)
Gujuo potion: Snake Weed • Ardrigal • Water filled vial • Snakes Weed Solution / Ardrigal Solution • Gujuo Potion
Golden Bowl: Hammer • 2 Gold bars • Golden Bowl (blessed) • Cut reed plant • Bowl with water (blessed, pure water, pure water + blessed) • Enchanted Vial • Holy Water Vial
Ancient Wall: Soul-Rune • Mind-Rune • Earth-Rune • 2 Law-Runes
Carved Rocks: Sapphire • Emerald • Ruby • Diamond • Opal • Jade • Red Topaz
Dark Metal Gate: 2-3 Unpowered orbs • Charge air orb, water orb, earth orb or fire orb spell runes
Notes: Radimus Scrolls • Bowl Sketch • Fire Pass • Scatched, Scribbled, Scrawled notes • Binding book • Shamans Tome • Holy Force


Misc:

3

Yommi tree seeds

(

germinated

)

•

Crystal lump

+

Crystal chunk

+

Crystal hunk

=

A red crystal

(

glowing

)

•

Dark Dagger

(

glowing

)

•

Totem Pole

(

gilded

)

Monsters
Community content is available under
CC-BY-SA
unless otherwise noted.