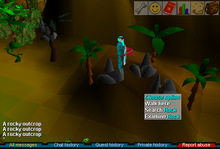 The Kharazi Jungle rocks are a type of scenery rocks and Agility shortcuts found in the western Kharazi Jungle. The rocks can be climbed down with level 50 Agility to enter Legends caverns.
Native Gujuo calls the location of the rocks as having "divine geometry", there are three rocks and three PalmTrees in a triangle.
The rocks can be searched for the following quest chat: (all spelling errors are intended)
You see nothing significant...
At first...
You see that there is a small crevice that you may be able to crawl though.?
Would you like to crawl through, it looks quite an enclosed area.
Yes, I'll crawl through, I'm very athletic.
You try to crawl through...
You contort your body to fit the crevice.
No, I'm pretty scared of enclosed areas.
You decide against forcing yourself into the tiny crevice..
And realise
that you have much better things to do..
Like visit Inn's and mine ore...
You may either fail the obstacle and lose 5 Hits:
You get cramped into a tiny space and start to suffocate.
You wriggle and wriggle but you cannot get out...
Eventually you manage to break free.
But you scrape yourself very badly as your force your way out.
And you're totally exhausted from the experience.
Or succeed and enter the first chamber of the caverns:
You adroitely squeeze serpent like into the crevice.
You find a small narrow tunnel that goes for some distance.
After some time, you find a small cave opening...and walk through.
Legend's Quest
Characters

Legends Guild Guards 🔊 • Sir Radimus Erkle 🔊 • Jungle Forester 🔊 • Gujuo 🔊 • Ungadulu 🔊 • Echned Zekin 🔊

Items

Getting around: Rune Axe • Machette • Pickaxe •

3

Papyri • Charcoal • Lockpick • Rope • Bull Roarer

Oomlie Meat: Raw Oomlie Meat • Palm tree leaf • Raw Oomlie Meat Parcel (cooked • burnt)
Gujuo potion: Snake Weed • Ardrigal • Water filled vial • Snakes Weed Solution / Ardrigal Solution • Gujuo Potion
Golden Bowl: Hammer • 2 Gold bars • Golden Bowl (blessed) • Cut reed plant • Bowl with water (blessed, pure water, pure water + blessed) • Enchanted Vial • Holy Water Vial
Ancient Wall: Soul-Rune • Mind-Rune • Earth-Rune • 2 Law-Runes
Carved Rocks: Sapphire • Emerald • Ruby • Diamond • Opal • Jade • Red Topaz
Dark Metal Gate: 2-3 Unpowered orbs • Charge air orb, water orb, earth orb or fire orb spell runes
Notes: Radimus Scrolls • Bowl Sketch • Fire Pass • Scatched, Scribbled, Scrawled notes • Binding book • Shamans Tome • Holy Force


Misc:

3

Yommi tree seeds

(

germinated

)

• Crystal lump

+

Crystal chunk

+

Crystal hunk

=

A red crystal

(

glowing

)

• Dark Dagger

(

glowing

)

• Totem Pole

(

gilded

)

Monsters
Community content is available under
CC-BY-SA
unless otherwise noted.