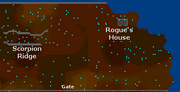 The Rogue's House is a building in deep level 50+ Wilderness. It contains 4 rogues, a stool and a fireplace. The house is the most Northeastern landmark in Gielinor. Although the house is deep in the wilderness, players with at least 32 thieving seeking lockpicks may venture here to pickpocket Rogues.
Trivia
In later versions of Runescape the house became a castle.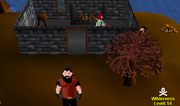 See also
Community content is available under
CC-BY-SA
unless otherwise noted.