The Skavid map is a quest item which players may receive from Ogre guards during the Watchtower quest. It is used with a light source to navigate in the caves beneath Gu'Tanoth.
Without the map characters will cycle from cave entrance to cave entrance without access to inside the caves. This can be useful when travelling around the area near Gu'Tanoth.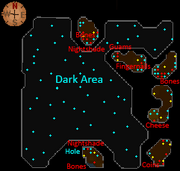 Watchtower
Characters

Grew • Og • Skavids • Toban • Gorad • Tower guard • Watchtower wizard

Items

Armour • Dagger • Dragon Bones • eye patch • Fingernails • Jangerberries • Key Magic ogre potion • Nightshade • Ogre potion • Ogre relic parts • Ogre relic • Ogre tooth • Powering crystal1 • Powering crystal2 • Powering crystal3 • Powering crystal4 • Robe • Rock cake • Shaman robe • Skavid map • Spell scroll • Stolen gold

Monsters
Community content is available under
CC-BY-SA
unless otherwise noted.