For information on training this skill, see Smithing training.
Smithing is one of several skills in RuneScape Classic. It allows players to make armour and weapons to sell to other players or to use for themselves.
Unlike Mining, Fishing and Woodcutting, which are gathering skills, Smithing is a production skill. It takes raw materials obtained from a gathering skill, in this case mining, and makes something else. It is popular because it can make a profit, and lets you provide equipment for you and your friends.
Smithing has two distinct parts: smelting, which is taking the ores from mining and turning them into metal bars, and forging, which is taking those bars and turning them into metal items.
Smelting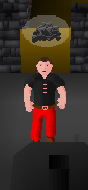 Once you've acquired all the ores you need, you need to smelt them into bars.
Furnace locations consist of:
The Al Kharid furnace is considered to be the most efficient because of its small distance from the bank.
Below is a table of bars, experience, and ores required:
* 100% when using Superheat item
** 33.5 experience when smelting a gold bar with the gauntlets of goldsmithing
Forging
Forging requires using a metal bar on an anvil with hammer in inventory.
Anvils are located at the following places:
Bronze
Iron
Steel
* Smithing cannoballs at a furnace requires a Cannon ammo mould from the Dwarf Cannon quest
Gold
* Smithing Golden Bowls requires the player to have started the Legend's Quest
Mithril
Adamantite
Runite
Legendary Dragon Square Shield
At level 60 smithing you can repair the Dragon Square Shield. You will need both the left square half, an extremely rare drop from various monsters, and the right square half, purchased from Legends' Guild store for 750,000 coins. Hammering the shield at an anvil gives 75 smithing experience.
Quests
The following quests give smithing experience rewards:
Trivia
See also