For information on training this skill, see the Melee training article.
Strength is a skill in RuneScape Classic. It is a combat skill that allows you to hit higher damage on monsters. To Train your Strength skill, you must kill something while either Aggressive or Controlled stance.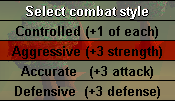 The amount of strength experience gained while in Aggressive stance can be found using this formula: $ XP = H \times 3 $
While in Controlled stance, the experience is divided between the three skills (Attack, Strength, and Defense), so you instead use this formula: $ XP = H $
In both cases, H = the amount of Hits experience received from the kill. This is different for each opponent, and unlike in RuneScape 2, is unrelated to the opponents' Hits.
Boosts
Quests
The following quests give Strength experience rewards:
Trivia
Ladykilljoy was the first player to achieve level 99 Strength on Runescape Classic.
Community content is available under
CC-BY-SA
unless otherwise noted.