Did you mean Totem Pole item?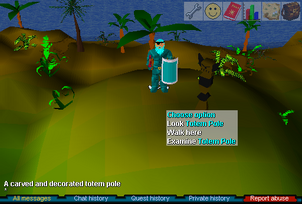 Totem Pole is a piece of scenery found in both the Kharazi Jungle and the Legends' Guild.
The one in Kharazi Jungle is evil and replaced during the quest by a Totem Pole created by the player. The one located in the Legends' Guild is a gift from Gujuo, received after slaying the demon Nezichened for the last time.
Before replacing:
"This totem pole looks very corrupted,
there is a darkness about it that seems quite unnatural.
You don't like to look at it for too long."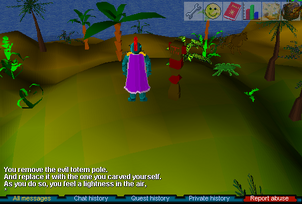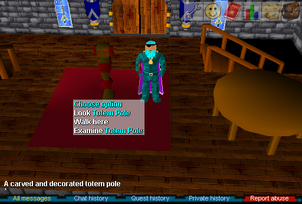 When it is replaced:
You remove the evil totem pole.
And replace it with the one you carved yourself.
As you do so, you feel a lightness in the air,
almost as if the Kharazi jungle were sighing.
Perhaps Gujuo would like to see the totem pole.
After replacing (Same as one in Legend's Guild):
This totem pole is truly awe inspiring.
It depicts powerful Karamja jungle animals.
It is very well carved and brings a sense of power
and spiritual fullfilment
to anyone who looks at it.
Players who have replaced the totem in the jungle will find that it will be replaced with the evil one. To make the replaced totem visible players need to look at it. It will be replaced visually by the evil totem after 10 seconds.
Legend's Quest
Characters

Legends Guild Guards 🔊 • Sir Radimus Erkle 🔊 • Jungle Forester 🔊 • Gujuo 🔊 • Ungadulu 🔊 • Echned Zekin 🔊

Items

Getting around: Rune Axe • Machette • Pickaxe •

3

Papyri • Charcoal • Lockpick • Rope • Bull Roarer

Oomlie Meat: Raw Oomlie Meat • Palm tree leaf • Raw Oomlie Meat Parcel (cooked • burnt)
Gujuo potion: Snake Weed • Ardrigal • Water filled vial • Snakes Weed Solution / Ardrigal Solution • Gujuo Potion
Golden Bowl: Hammer • 2 Gold bars • Golden Bowl (blessed) • Cut reed plant • Bowl with water (blessed, pure water, pure water + blessed) • Enchanted Vial • Holy Water Vial
Ancient Wall: Soul-Rune • Mind-Rune • Earth-Rune • 2 Law-Runes
Carved Rocks: Sapphire • Emerald • Ruby • Diamond • Opal • Jade • Red Topaz
Dark Metal Gate: 2-3 Unpowered orbs • Charge air orb, water orb, earth orb or fire orb spell runes
Notes: Radimus Scrolls • Bowl Sketch • Fire Pass • Scatched, Scribbled, Scrawled notes • Binding book • Shamans Tome • Holy Force


Misc:

3

Yommi tree seeds

(

germinated

)

• Crystal lump

+

Crystal chunk

+

Crystal hunk

=

A red crystal

(

glowing

)

• Dark Dagger

(

glowing

)

• Totem Pole

(

gilded

)

Monsters
Community content is available under
CC-BY-SA
unless otherwise noted.