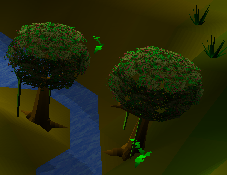 A tree swing is a piece of scenery and an agility shortcut that allows the player to swing across water. It is not possible to fail this shortcut.
When using the swing in Brimhaven the player will produce the following dialogue:
Aaaaahahah
Locations

* Requires a rope to be used on the tree found off of the island, which will disappear if the player logs out while it is still affixed to the tree- however the rope will stay for an infinite amount of swings, until the player logs out
Trivia
Brimhaven: they look fun to swing on
Off Ogre island: It has a branch ideal for trying ropes to
On Ogre island: I wonder who put that rope there
See also
Community content is available under
CC-BY-SA
unless otherwise noted.