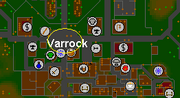 The Varrock Square is a small area in Central Varrock. It is south of Varrock Castle and is surrounded by few nearby shops, such as Thessalia's shop, a general store, Horvik's armoury and Zaff's store.
In free to play, it was a common location for players to gather to trade.
Personalities
Gypsy, speak to her to start the Demon Slayer quest.
Romeo, speak to him to begin the Romeo and Juliet quest.
Shilop, a boy involved in Gertrude's Cat.
Baraek, a key character in the Shield of Arrav quest.
Community content is available under
CC-BY-SA
unless otherwise noted.