The Watchtower (building) is located northwest of Yanille in south of Kandarin. It is featured in the Watchtower quest.
The tower is connected to Yanille on the ground via the wall to the south and east. A fenced hedge blocks the way west to the Feldip Hills.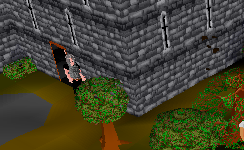 On the northern wall of the tower, there are handholds which serve a shortcut and require level 18 Agility to climb.
Ground

 floor[

UK

] and exterior
The interior of the ground floor contains a table with a candle spawn on it, and three Tower guards. There is also a ladder leading up.
Outside the tower, there are multiple flowers and bushes. There are also normal, maple, and yew tree, plus a well, and a fountain.
1st floor[

UK

]
This floor may be reached by the ladder only after the player has started the Watchtower quest. The floor is home to several [[Yanille Watchman|Yanille watchmen] in a room with a bench, walls adorned by candles and decorative shields.
2nd floor[

UK

]
There are several Watchtower Wizards who are found on the top floor, along with a magic portal, lever, and four pedestals which sit atop of pentagrams on the floor.
Community content is available under
CC-BY-SA
unless otherwise noted.