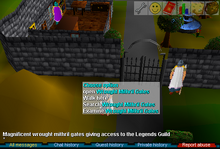 Wrought Mithril Gates are the gates of Legends' Guild. The outer gates may be entered if player has the 107 Quest Points needed to start the Legend's Quest. The gates are guarded by Legends Guild Guards.
Messages
Edit
Searching:
"The gates to the Legends Guild are made from wrought Mithril.
A small path leads away up to a very grandiose building.
To the left is a smaller out building, but it is no less impressive.
All the buildings are set in wonderfully landscaped gardens.
Two well dressed guards seem to be guarding the gate."
Opening during the quest:
"A guard nods at you as you walk past.
Legends Guild Guard: Hope the quest is going well Sir !"
After handing Sir Radimus Erkle the completed Radimus Scrolls and Gilded Totem Pole:
The guards Salute you as you walk past.
Legends Guild Guard: ! ! ! Attention ! ! !
Legends Guild Guard: Legends Guild Member Approaching
No messages are triggered when players exit the guild
Legend's Quest
Characters

Legends Guild Guards 🔊 • Sir Radimus Erkle 🔊 • Jungle Forester 🔊 • Gujuo 🔊 • Ungadulu 🔊 • Echned Zekin 🔊

Items

Getting around: Rune Axe • Machette • Pickaxe •

3

Papyri • Charcoal • Lockpick • Rope • Bull Roarer

Oomlie Meat: Raw Oomlie Meat • Palm tree leaf • Raw Oomlie Meat Parcel (cooked • burnt)
Gujuo potion: Snake Weed • Ardrigal • Water filled vial • Snakes Weed Solution / Ardrigal Solution • Gujuo Potion
Golden Bowl: Hammer • 2 Gold bars • Golden Bowl (blessed) • Cut reed plant • Bowl with water (blessed, pure water, pure water + blessed) • Enchanted Vial • Holy Water Vial
Ancient Wall: Soul-Rune • Mind-Rune • Earth-Rune • 2 Law-Runes
Carved Rocks: Sapphire • Emerald • Ruby • Diamond • Opal • Jade • Red Topaz
Dark Metal Gate: 2-3 Unpowered orbs • Charge air orb, water orb, earth orb or fire orb spell runes
Notes: Radimus Scrolls • Bowl Sketch • Fire Pass • Scatched, Scribbled, Scrawled notes • Binding book • Shamans Tome • Holy Force


Misc:

3

Yommi tree seeds

(

germinated

)

• Crystal lump

+

Crystal chunk

+

Crystal hunk

=

A red crystal

(

glowing

)

• Dark Dagger

(

glowing

)

• Totem Pole

(

gilded

)

Monsters
Community content is available under
CC-BY-SA
unless otherwise noted.