Wydin's Food Store is a shop owned by Wydin and located in southwest Port Sarim. It sells food and ingredients for Cooking.
The shop plays a role in the Pirate's Treasure quest, wherein it is used to smuggle Karamja Rum. The player cannot access the back room to search the crate of bananas until they're hired by Wydin and are wearing a white apron.
Wydin himself seems to take an interesting approach to employee relations, as after the player gets a job in the store, he never pays them. Although, it's questionable whether they ever did any real work.
There is a white apron spawn in the back room, which means the player will need to have their own to access it. The front and back rooms of the shop each have a ladder leading upstairs to a bedroom. However, there is only one ladder upstairs and it leads down to the front room of the shop.
Stock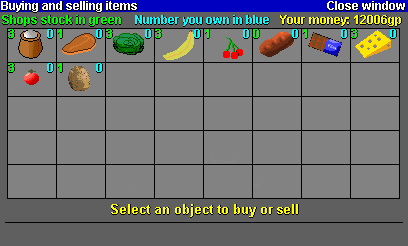 The shop may not stock bread because it is a required item at Grum's Gold Exchange nearby during the Merlin's Crystal quest.
Community content is available under
CC-BY-SA
unless otherwise noted.